Replica Trophy For Sale.        Buy A Trophy Replica On-line.

 Copy Trophy
COPYTROPHY  store used by club owners, coaches and players. Unparalleled quality guaranteed. Copytrophy, the store that all serious collectors count on. We pride ourselves in providing you with pure craftsmanship you will not receive elsewhere. Our reputation throughout the replica trophy world is second to none.

Simply The Very Best High End Trophy Store On-line. 

Our Copy Vince Lombardi Trophy is stunning, accurate and made to last. Copy Larry O Brien Trophy 2 feet tall, 14 pounds and regulation size ball. Our highest end trophy is the Copy World Series Trophy. A complicated design that has been fine tuned into what is now, without doubt a division above its nearest challenger. Words can't describe it and pictures do not do it justice. Copy George Halas or Lamar Hunt, the perfect complement in any Super Bowl memorabilia collection. For our College Football fanatics. Copy College Football Trophy soon to be unleashed onto countless man caves. Our up coming edition is now edging closer to the level of excellence only copytrophy consistently produce. Moving onto our soccer fans, the Copy Champions League Trophy. The closest champions league trophy to be found anywhere. Recently had its latest upgrade where we perfected even the smallest fractions of scaling, overall technical improvements to the manufacture process, and striking improvements to the finish.  For our German fans the Copy Bundesliga Trophy. A Copy trophy with a tremendous amount of component fittings and hand crafted detail, notably the vast amount of engraving on the five separately engraved plates. Finished in high shine nickel silver and attractive emerald stone inlays. For our Aussie Rules fans, the Copy Premiership Trophy. As with Super Bowl Sunday, grand final day brings Australia to a crawl. Best described as both a classy trophy and more fittingly the holy grail of Aussie Rules Football.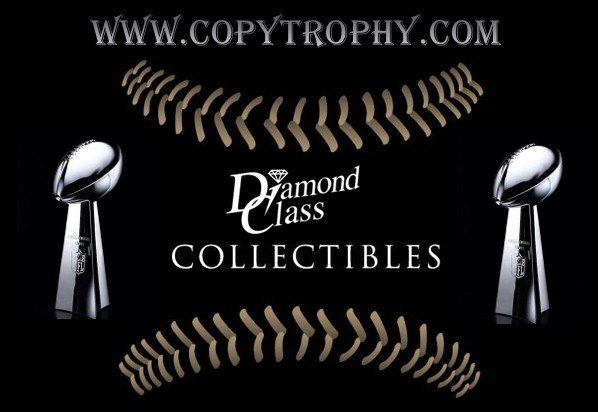 All reviews submitted to on-line stores are controlled by the store owners. They dictate what store reviews sent from "YOU THE BUYER" become visible. For this reason I offer external links to my feedback gained from strict third-party selling platforms over the past 8 years. I have no control whatsoever over feedback received from previous transactions and so this should be your starting point.

8 YEARS OF GENUINE TROPHY REVIEWS

 Click here for my Ebay Davidsilverware feedback

Click here for my Amazon Copytrophy feedback

Click here for my I Offer Botanicals2008 feedback

Click here for archived copytrophy store feedback (Before site upgrade)
Showing all 16 results