CRAFTSMANSHIP
YEARS OF GENUINE OFF-SITE TROPHY REVIEWS  
THE "ORIGINAL" COPYTROPHY
SIMPLY THE VERY BEST HIGH END TROPHY STORE ON-LINE. COPYTROPHY, THE STORE USED BY OWNERS, COACHES AND PLAYERS. UNPARALLELED QUALITY GUARANTEED. COPYTROPHY, THE STORE THAT ALL SERIOUS COLLECTORS COUNT ON. WE PRIDE OURSELVES IN  PROVIDING YOU WITH PURE CRAFTSMANSHIP YOU WILL NOT RECEIVE ELSEWHERE. WE OFFER YOU A SERVICE THAT INCLUDES COMPREHENSIVE TROPHY KNOWLEDGE GAINED OVER THE PAST 15 YEARS OF RESEARCH AND MANUFACTURE. OUR REPUTATION IS SECOND TO NONE.

VINCE LOMBARDI TROPHY
Our full size Vince Lombardi Super Bowl Trophy is stunning, accurate and made to last. A huge hit among the coaches, players and staff. Seeing is believing, pictures do not do it justice. Now available to purchase with our new upgraded "two tone" 2008 onward logo design. We are the original copytrophy. Nothing available in the market comes anywhere near it. Our quality to value ratio in comparison leaves its nearest challenger nothing short of a tin can. Choose from any single SB final, full set collections, fantasy league personalized trophies, the book is open and no request is too small.
AFC vs NFC CONFERENCE TROPHIES
What is the perfect compliment to your new Vince Lombardi Trophy, or to champion a trophy that displays your teams achievement of being the best team in the conference for any given season? Without doubt it is our AFC Lamar Hunt Trophy and our NFC George S Halas Trophy. A heat treated wooden base supports the solid brass A and N along with an antique brass crafted back plate. Unique to the original copytrophy store and a mighty fine trophy to possess.
LARRY O BRIEN TROPHY
Our full size Larry O Brien trophy is a full size 24 inch tall master piece. Made from 100% high grade crafted brass. Another trophy design we offer our customers complete customization options at purchase. We have numerous engraving options for all teams going back to the very first Larry O Brien trophy ever presented.
WORLD SERIES TROPHY
Our highest end trophy is the World Series Trophy. A complicated design that has been fine tuned into what is now, without doubt a division above its nearest challenger. Words can't describe it and pictures do not do it justice. The list of recipients who have received our trophy from the coaches and players within the MLB franchises. Again shopping with the "Original" copytrophy will provide you with the true players trophy.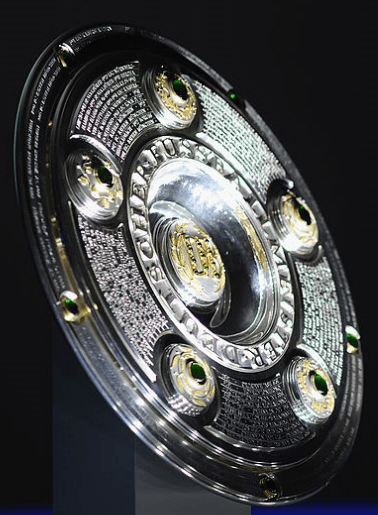 DEUTSCHE MEISTERSCHALE or BUNDESLIGA TROPHY
For our German fans the Bundesliga Trophy. A trophy with a tremendous amount of component fittings and hand crafted detail, notably the vast amount of engraving on the five separately engraved plates. Finished in high shine nickel silver and attractive emerald stone inlays. The German fans call this trophy "the ugly salad bowl" trust me when i tell you this is one of the most complicated trophies we have ever made. No one else has taken it on, i am sure my competition had an head swimming day when they bought one from me and took a good look.
Established in 2008 and with 15 years of experience and research behind them, Copytrophy sit proudly at the top of the replica sports trophy business. Unrivalled for quality, attention to detail and customer service, Copytrophy provide individually hand-crafted replicas of many iconic sporting trophies from around the globe, including Europe as well as USA.
There has never been more live sports broadcast than there is now; American football, soccer, baseball, and basketball top the lists, and in the US alone more than 150m people watch at least one live sporting event each month. We watch sport for the passion and excitement it generates – and we are able identify closely with our favorite teams and clubs. And naturally, when your team celebrate success on the field you too feel part of that success – and what better way to commemorate that victory than acquiring a replica of your teams' trophy? 
Having an immaculate replica trophy in your lounge, man cave or in your sports club or bar will be a constant reminder of the glory days and a motivation to succeed again!
The Vince Lombardi Superbowl replica trophy is one of our most popular items and we can reproduce any one of the previously given awards, not just the most recent trophy. And with all of our replicas, although painstakingly true to the originals, we can offer a personalized service in customizing your individual trophy with engravings that you choose. And if you consider that you can own such a replica for a fraction of the cost of a ticket for the Superbowl there's even more to be impressed with!
Other incredibly popular replica trophies from the world of American Football include the Lamar Hunt trophy, the George Hallas trophy (awarded to the AFC and NFC conference play-off winners respectively) and the Heisman Trophy awarded to the year's outstanding college football player.
But if baseball is more your thing, we can produce and supply an outstanding replica of the Commissioner's Trophy, awarded for the World Series, or maybe the top trophy in basketball, the Larry O'Brien trophy, awarded to the NBA finals winner has caught your eye?
From Germany, the two foremost soccer tournaments and trophies are the Deutsche Meisterschale Trophäe which is awarded to the Bundesliga (League) champions and the DFB Pokal Trophäe which is the premier Cup knockout competition. The Bundesliga trophy is one of the most elaborate replica trophies that we produce and we are certain you will not find anything of a similar quality to our item. Probably the most recognizable trophy in world football is the European Champions League trophy and at the present time we are delighted to be able to provide you with a replica with free shipping.
Our absolute commitment to quality is reflected in our no quibble money back guarantee. If you receive your replica trophy from us and it does not meet high expectations and our own high standards, we will be happy to make a full reimbursement of all your costs on its return.