CRAFTSMANSHIP
13 YEARS OF GENUINE OFF-SITE TROPHY REVIEWS  
THE "ORIGINAL" COPYTROPHY
SIMPLY THE VERY BEST HIGH END TROPHY STORE ON-LINE. COPYTROPHY, THE STORE USED BY OWNERS, COACHES AND PLAYERS. UNPARALLELED QUALITY GUARANTEED. COPYTROPHY, THE STORE THAT ALL SERIOUS COLLECTORS COUNT ON. WE PRIDE OURSELVES IN  PROVIDING YOU WITH PURE CRAFTSMANSHIP YOU WILL NOT RECEIVE ELSEWHERE. WE OFFER YOU A SERVICE THAT INCLUDES COMPREHENSIVE TROPHY KNOWLEDGE GAINED OVER THE PAST 13 YEARS OF RESEARCH AND MANUFACTURE. OUR REPUTATION IS SECOND TO NONE.

VINCE LOMBARDI TROPHY
Our full size Vince Lombardi Super Bowl Trophy is stunning, accurate and made to last. A huge hit among the coaches, players and staff of last years Super Bowl champions Denver Broncos. Seeing is believing, pictures do not do it justice. Now available to purchase with our new upgraded "two tone" 2008 onward logo design. We are the original copytrophy. Nothing available in the market comes anywhere near it. Our quality to value ratio in comparison leaves its nearest challenger nothing short of a tin can. Choose from any single SB final, full set collections, fantasy league personalized trophies, the book is open and no request is too small.
AFC vs NFC CONFERENCE TROPHIES
What is the perfect compliment to your new Vince Lombardi Trophy, or to champion a trophy that displays your teams achievement of being the best team in the conference for any given season? Without doubt it is our AFC Lamar Hunt Trophy and our NFC George S Halas Trophy. A heat treated wooden base supports the solid brass A and N along with an antique brass crafted back plate. Unique to the original copytrophy store and a mighty fine trophy to possess.
LARRY O BRIEN TROPHY
Our full size Larry O Brien trophy is a full size 24 inch tall master piece. Made from 100% high grade crafted brass. "Very popular with all the Cleveland Cavs collectors after their historic victory over a team very few though could lose". Another trophy design we offer our customers complete customization options at purchase. We have numerous engraving options for all teams going back to the very first Larry O Brien trophy ever presented.
WORLD SERIES TROPHY
Our highest end trophy is the World Series Trophy. A complicated design that has been fine tuned into what is now, without doubt a division above its nearest challenger. Words can't describe it and pictures do not do it justice. The list of recipients who have received our trophy from the coaches and players within the SF Giants, K C Royals, the Cubs, the Nationals and our most recent champions the LA Dodgers has been amazing. Again shopping with the "Original" copytrophy will provide you with the true players trophy.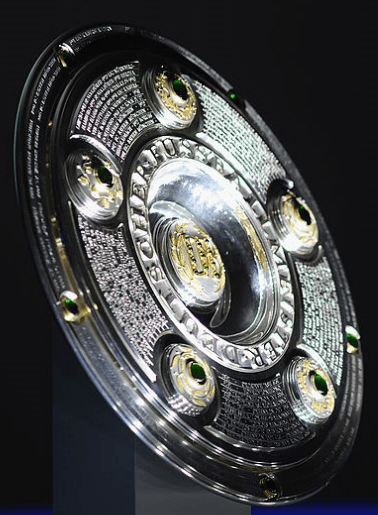 DEUTSCHE MEISTERSCHALE or BUNDESLIGA TROPHY
For our German fans the Bundesliga Trophy. A trophy with a tremendous amount of component fittings and hand crafted detail, notably the vast amount of engraving on the five separately engraved plates. Finished in high shine nickel silver and attractive emerald stone inlays. The German fans call this trophy "the ugly salad bowl" trust me when i tell you this is one of the most complicated trophies we have ever made. No one else has taken it on, i am sure my competition had an head swimming day when they bought one from me and took a good look.
AFL PREMIERSHIP TROPHY (GRAND FINAL)
For our Aussie Rules fans, the Premiership Trophy. As with Super Bowl Sunday, grand final day brings Australia to a crawl. Best described as both a classy trophy and more fittingly the holy grail of Aussie Rules Football.
Here at Copytrophy, we are the leading provider of high-end trophies. If you are looking for a Replica World Series trophy, Replica Super Bowl trophies or perhaps even a Champions League Replica trophy then you have come to the right place! We are the trophy store preferred by coaches, owners and players and all of our trophies come with an unparalleled guarantee and assurances regarding the quality of our products.
If you are a collector and really appreciate our quality craftsmanship then you will understand that you can't get this sort of quality anywhere else. You can see the attention to detail that goes into every one of our products such as the Lombardi Trophy Replica, basketball trophy and the AFL Grand Final Trophy.
Replica trophies are our passion and you will see over 10 years of research going into every trophy. We don't just manufacture fantastic trophies, something that we have established an unrivalled reputation for doing, but we also have extensive knowledge of the trophies themselves. You will find that all of our products represent excellent value for money and are unique. You won't be able to find the same quality anywhere else in the world. It is for this reason that we offer worldwide shipping.
Some of the Replica trophies that we have available are:
• World Series Replica Trophy
• Replica Champions League Trophy
• Vince Lombardi Trophy Replica
• Super Bowl Replica Trophy
• Bundesliga Trophy Replica
• Toronto Raptors Trophy
• Larry O'Brien Trophy Replica
• Basketball Trophy Replica
• AFL Grand Final Trophy Replica
The trophies that we stock are highly sort after by professional sports teams from around the world and a detailed list of recipients can be found on our website. We offer Replica trophies from a wide range of sports including Football, Baseball, Soccer, Aussie Rules, Basketball. Each trophy is made to order and is meticulously hand-crafted. When you order your trophy, you can request additional artwork and we would be happy to oblige at no extra cost and with no extra lead time required.
If you are located in the US, we guarantee that you will have no borders issues to contend with for US sporting trophies. You are purchasing an item in the US and all items can be returned in the US. Problems with Replica US trophies ordered from overseas are common and we strongly advise against this.
Copytrophy guarantees the quality of all our trophies and you will see that our website includes no disclaimers. We are very proud of every trophy that we produce and we expect it to arrive with you in perfect condition. If you are not entirely satisfied with your purchase we offer a "no quibbles" money-back guarantee and will pay every cent of your costs. If you would like more information on our magnificent range of Replica trophies such as the World Series Trophy Replica, a Lombardi Replica, Champions League Replica Trophy or perhaps a Super Bowl Trophy Replica we would like to invite you to call us on (US)+1-831-471-5567, (UK) +44-161-818-6843, Skype: Lee.Butler1, email on info@copytrophy.com or alternatively, you can contact us via our website. We look forward to hearing from you.